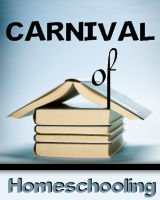 It's been a long time since I've participated in the Carnival of Homeschooling. I've had a long dry season during which I wasn't thinking much about homeschooling outside my own little world. But when my nicely-planned homeschool world turned sideways (which is not as dramatic as being turned upside-down), I thought about the Carnival again.
And I am particularly glad to be back this week, since it's hosted at one of my favorite blogs:
Smallworld at Home
.
Go check it out
. There are posts about picture books, writing resources, music education, AD/HD, and much, much more.