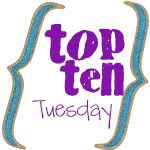 The top ten websites we use to enhance our homeschool experience:
1.
Animal Diversity Web
: Loads of information on and photos of animals. Great for classification exercises.
2.
All About Birds
from the Cornell Lab of Ornithology: Everything you need to know about birds.
3.
Explore PA History
: Self-explanatory. Your state probably has a site like this too.
4.
Encyclopedia of Life
: More animals, and plants!
5.
Usborne Quicklinks
: Keyed to their internet-linked books.
6. Our local library database. We can request books from any branch in our county-wide system to pick up at our closest branch. Check out your own.
7.
English for Everyone
: Grammar and punctuation worksheets, free!
8.
Khan Academy
: Math help!
9.
National Geographic
: photos, videos, articles.
10. Google Maps, because we need to find those field trip locations!
Go visit
Top Ten Tuesday
and see more lists or post your own. But first, what are the favorite sites in your homeschool?